Sawada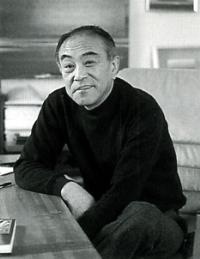 Tetsuro Sawada (1933-1998)
Born in Hokkaido, Sawada graduated from Musashimo Art University where he majored in Western painting. Often referred to as "the skyscape artist", Sawada has achieved the technique of "bokashi" (shading) which is most difficult in the the silkscreen medium. Sawada inked and self-printed all of his own prints and accomplished a striking juxtaposition of matte and shiny colors; a clean, stylistic precision - stark, yet beautiful. His works are in numerous collections, including the British Museum, Cleveland Museum, Cincinnati Art Museum and the Honolulu Academy of Art.
Night Vieuws

Prachtige zeefdruk, handgesigneerd en genummerd 26/100.

Ingelijst achter museumglas.

€ 550,00

Sorry Sold

Flash

Zeefdruk.

Hangesigneerd en genummerd. Oplage: 38/100 Jaar: 1987

Prachtig ingelijst.

Verkocht
Winkelwagen
Geen artikelen in winkelwagen.